The glacier towers before you, but now you stand in a valley. It is a beautiful habitat, a variety of wildflowers grow here. Nothing that you can see lives here, not yet anyway.
As you wander, a small white shape catches your eye. You walk over, looking at the tiny thing ,and realize its a cat!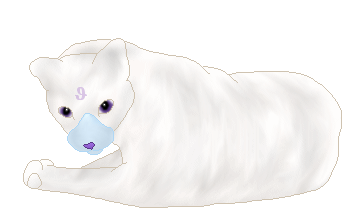 She looks up at you, yawning. Her eyes shine, and a small cresendo of purrs escapes her. She mewls at you, standing up and stretching. You smile, she's a quiet one. She rubs against your leg, still purring. "I am Miyotess." she accsents her vowels rather heavily, speaking with a strange accent. She reaches up a tiny paw, patting at your arm. You laugh, sitting down, and pat the top of her soft head. Her tail sways from side to side, disturbing a cloud of butterflys into the air. She frolics after, leaving you along.
A sign catches your attention.