You walk to the other side of the lake, and don't find any more of the elagen, cat like creatures. You look back for May, but she is nowhere to be seen...
From a cave behind you comes a low growl... and the most bizzare crature you've ever seen hobbles over.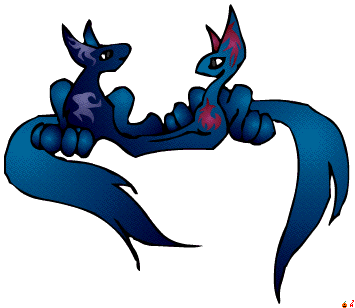 The darker of the two twins growls. "What do you want?" "It's a traveller, Hei." the other twin says, in a similar, growling voice. You tremble. Not only is this melcey strange, she seems hostile. "Fine. I won't kill it." the twin who must be Hei growls. "That's good," the other says. Hei smirks. "Who are you, and why have you come?" you answer, and, shakingly, ask their names. "I am Hei," the darker one says. The lighter one gives her name as well. "I'm Caro`bix. Our names together mean 'Dark Night'. You'd best be on your way, before my sister looses her temper." you nod in agreement, and scamper nervously off.
Hei and Caro`bix's stats
Names: Hei (darker) and Caro'Bix (lighter)
Translation: Dark and Night
Gender: Both Female
Specie: melcey
Theme: Darkness
Litter: Halloween
Parents: wild
Mate: Not intersted...
Homeland: Arborwin Adoptions
Pack: none yet
You run away, far away, and finaly, exausted, collapse. "Er hem.." voice clears its throat above you. You look up, weary...
Another melcey is peering down at you. "Are you alright?" he asks, blinking. You moan out your answer, slowly standing up. "Well... that's ok, I guess. I am Vapourtrail, a Sky melcey." you nod, and give him your responce. He flicks an ear, and grins. Well traveller, you have nearly reaced the end of our lands. There is one more melcey..." he trails off. "Ah.. I need to be going, see you later!" with that, he bounds off.
Vapourtrail's stats
Name: Vapourtrail
Translation: None
Gender: male
Theme: Sky
Litter: 55
Parents: MhedXVelvetShadow
Homeland: Arborwin Adoptions
Pack: none